Featured Success Story
---
Lexus:
Pam Patton had enjoyed a successful 2014 polo season with her mare, Lexus. That fall Lexus came in from the field lame with swelling in a front ankle. She called us to come assess her horse, fearing the mare may have a serious injury or infection. Dr. Hendrickson examined Lexus, took radiographs of the fetlock joint, and then ultrasounded the soft tissues around the fetlock. The diagnosis was a torn lateral suspensory branch, which had pulled small pieces of sesamoid bone off its attachment. Additionally, she had sprained her fetlock joint. Suspensory injuries of this nature are quite serious and do not always heal. Pam and Dr. Hendrickson needed to make a plan to give Lexus the best chance of returning to polo.
Luckily, the new therapy platelet rich plasma (PRP) was available to promote better healing in soft tissue injuries. Dr. Hendrickson employed this treatment as soon as Lexus was ready, and then she and Pam waited anxiously to see the results.
At the first progress ultrasound examination, the swelling at the site of the tear was gone, and some new tissue was filling in the holes. Better yet, Lexus was sound at the walk again. While encouraged, the prospect of a complete recovery was still uncertain.
The following months included a diligent rest and rehabilitation program for Lexus. Lexus did her best to remain quiet but took awhile to adjust to her new routine. Each progress exam showed slow, steady healing. Finally the day came where the small fractures were no longer visible on the ultrasound, and the torn ligament fibers appeared healed. After four long months, it was finally time to see if Lexus was comfortable on that ankle during a brief in-hand jog. She was sound!
The rehabilitation program took a big step forward and started more activity. Lexus was gradually introduced to more work under saddle, and range of motion exercises were added. Finally the day came when Lexus could enjoy some turn-out again. The next step was time to put her back in training for polo!
Thanks to Pam and Dr. Hendrickson's dedication, Lexus stayed comfortable and did well in her return to the polo field.
Her owner sent Ridgeview a great email update in December 2015: "I just wanted to take the time to let you know how much I appreciate what the staff at Ridgeview Vet has done for my polo pony Lexus over the past year… Now, looking back at the 2015 season, I can happily report that my spunky QH mare took me on many adventures, such as our first cow sorting competition, fox hunting with the Carrollton Hounds, we played in several grass polo tournaments at Capitol Polo and Virginia International Polo, rocked the arena polo tournaments at Mountain View and Marlan Farm, and wrapped up the season with a Best Playing Pony award at our winter arena polo tournament finals. We couldn't have done it without the wonderful support of all the staff at Ridgeview – answering my questions, providing advice on how to deal with an unruly mare leaping in a stall, and explaining the results of the ultrasounds as we monitored her healing progress."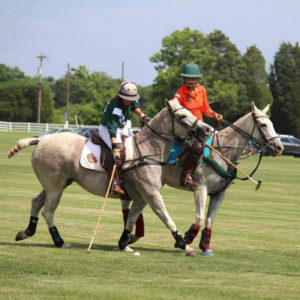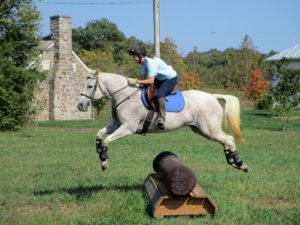 Check back soon to hear about Renior's success story…